The living room is the first thing you see when entering the house, and also where you spend most of your time relaxing and socializing with other members of the family. For that reason, it's important to furnish your living room with care and thoughtfulness.
If you're looking for advice on how to design the perfect living room, look no further. We will give you our best recommendations below!
Find The Perfect Arrangement That Fits Your Needs and Habits
You have to spend a lot of time in the living room, so make sure there are suitable arrangements for guests and TV watching. You should take into account what kind of layout works best for you when arranging furniture pieces – do you want your couch facing the television? Are you putting up a fireplace? These are questions that need answers before making major changes.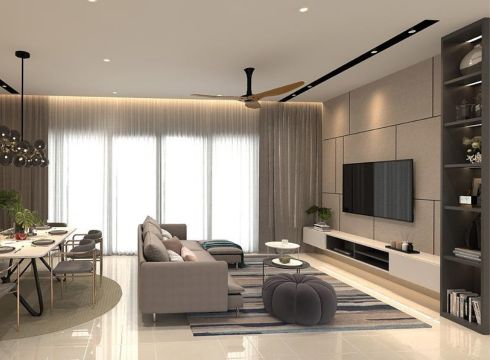 Your needs may vary depending on if this is just an entertainment area or if you are using the area to entertain guests. If this is your entertainment room, then try putting in an L-shaped sofa with a centre table in between. There should be enough space for all of you to sit together comfortably while also allowing for people to walk about freely. If space allows, add another reclining chair on the other side of the table so everyone will have a seat when needed. Also, make sure there is enough distance between your chairs and couches – at least eight feet – so it doesn't feel congested in the living room.
Pay Attention To Lighting And Decoration
The quality of light you get can greatly affect how comfortable you feel when relaxing or entertaining guests in the living room. If possible, avoid overhead lighting at all costs. The brighter it is, the harder it is to make this place feel cosy and inviting. Instead, you should use lamps or other sources of light that are placed on tabletops or side tables. There should be ample lighting for you to move around but enough dim darkness so the area feels warm and comfortable. Nothing beats natural light, as well.  If you have the option, open up your curtains to let in some sunlight.
You can also affect how cosy your living room looks depending on what kind of decorations are used to decorate your walls. Wall décor doesn't have to consist of wallpaper, paintings, shelves full of books, or cabinets full of knick-knacks – just keep this in mind when designing the perfect living room!
All the possibilities for making your living room prettier and cosier can be overwhelming. It takes a great interior design plan to make sure you do not reduce the functionality of your living room by adding too many things you think you "need". That leads to the following tips:
Avoid Overcrowding
When decorating your living room, try not to overcrowd the interior with too many objects because it could make this place feel smaller than it is. Instead, mix in a few accents here and there without sacrificing space for walking around. If possible, leave enough room in between these decorations so you can group them together if need be. You should also consider giving this area a touch of personalization by adding decorative pieces that inspire relaxation and comfort. You can use wall art paintings or typography prints to add colour and personality to the walls while these little knickknacks can create an inviting atmosphere in no time!
Decide on the focal point of your living room
Another thing to keep in mind when decorating your living room is figuring out the focal point of this area. This will be the first thing people see when they enter, so it should catch their attention immediately. You can use a fireplace or an impressive wall painting as the focal point for the room. Once you figure out what area will attract everyone's attention, try adding pieces that complement its features without overpowering it. Your focal point could also be a conversation starter for your visitors, and what better place to keep it going than your cosy living room, right?
Be Mindful Of The Colors You Use
The colours you choose for your living room can greatly affect how inviting and relaxing this place feels. Regarding colours to use, go with soft hues because they create a subtle atmosphere that puts everyone at ease. You may want to avoid going too bold or dark because those types of colours can diminish just how comfortable your living room feels. If you want to create a more dynamic feel with the walls, consider adding stripes or an interesting geometric pattern instead of just painting them one solid colour.
Keep it Clean and Tidy
This is another important aspect of decorating your living room since you will usually operate this place as a common area during the day. Keep the floor tidy and clean by using carpets or rugs along with decorative pillows on couches and chairs. It's also smart to keep all the furniture away from windows so direct sunlight does not make it harder for people to relax in front of the TV or near the fireplace at night. You should also designate specific areas where guests can put their coats and bags if necessary.
Best advice for living room interior design
Living rooms are usually the first things people see when they enter your home, so it's only appropriate to keep them both functional and aesthetically pleasing. A beautiful living room can give your guests just the right amount of warmth and comfort that will help them feel welcome. On the other hand, it would be a shame if these visitors leave feeling uncomfortable because there was nowhere nice to sit or relax during their stay.